Super Smash Bros. Ultimate
From MiiWiki
Jump to navigation
Jump to search
Super Smash Bros. Ultimate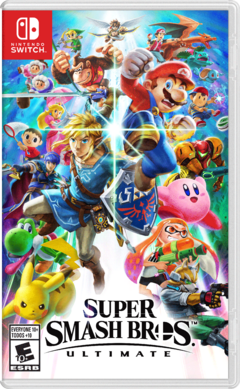 Box artwork
Super Smash Bros. Ultimate is a 2.5D fighting game made by Nintendo, Sora, Jasrac, and Bandai Namco for the Nintendo Switch as the fifth installment of the Super Smash Bros. series. It was released on December 7, 2018, with all 63 (65 if counting Pokémon Trainer as three slots) characters from previous Smash Bros games returning, 11 base game newcomers and 12 downloadable characters (13 DLC characters if Pyra and Mythra are counted as two).
The game has an option to create a Mii Fighter, in which the player can select a fighter type. The fighter types are Mii Brawler, Mii Swordfighter, and Mii Gunner. The Mii's outfit, voice, and moveset can be customized as well.
Trivia
As in the previous entries, most Mii Fighter costumes based on existing characters were promoted using Miis of their respective characters. Returning DLC costumes used the same Miis as before, which were previously distributed through QR Codes. Miis created for new costumes were not officially distributed, but three can appear in-game: Final Fantasy VII's Barret Wallace, Tifa Lockhart, and Aerith Gainsborough have their Miis appear in their Spirit Battles if the player has downloaded their respective costumes.
Gallery
External Links