User
:
The Jacketed Terrapin
From MiiWiki
Jump to navigation
Jump to search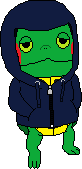 Hello! I call myself "The Jacketed Terrapin", but you can also call me any of the nicknames listed at the end of the "Name Origin" section. I've been an editor on this wiki since October 31, 2023.
Name Origin
While you can probably guess the reasoning for my turtle-themed name and avatar, the jacket in my sona's design is based on an O'Neill jacket I got for Christmas of 2016 (I believe). What really stood out about this jacket for me was that it was covered in faux fur on the inside, thus providing extra warmth whenever it was cold somewhere and it was admittedly a very comfortable jacket to use as a pillow, too :P.
Do note that the jacket has been simplified for my design, as the real-life jacket has thin stripes in its design as well as sporting the O'Neill logo. The jacket also isn't quite that shade of blue, but I thought it looked nicer.
As a side note, you can call me by a few shorter nicknames. Some preferred names are "Terrapin", "Terra", or "T.J.".
On other NIWA Wikis
The only other NIWA wikis you'll find me on are Nintendo Wiki, Nookipedia and SmashWiki, the second of which is where I am also a Patroller. However, due to Nintendo Wiki's overall lack of activity and my waning interest in Nookipedia, SmashWiki is really the best shot if you wanna keep up with me.
SmashWiki: The Jacketed Terrapin
Nookipedia: The Jacketed Terrapin
NintendoWiki: The Jacketed Terrapin