User
:
Ethan of Greenhorne
From MiiWiki
Jump to navigation
Jump to search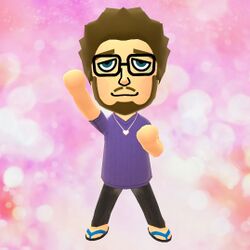 Hey, it's Ethan! I'm an editor on other wikis, and since Miis and their games have been a longtime special interest of mine, I'm really excited to be a part of this one! I've played most of the major Mii-focused games (even getting a lot of use out of StreetPass Mii Plaza), was an active user of Miiverse and Miitomo, and have been a Wii Fit Trainer main since her Smash debut. In addition to being nostalgic and cute, Miis have long been a way for me to express myself and connect with others!
If you want to see what I'm working on in my sandbox, just click over there. Also leaving that so I can more easily reach it myself.
Besides video game and Internet things, my hobbies include making art, collecting toys and other novelties, and skateboarding.
To-Do List
Create and flesh out pages for games and characters.
Write coverage on how Mii-focused games are represented in the Super Smash Bros. series.
Upload more screenshots and official artwork.
Upload relevant DS, 3DS, Wii U. and mobile software icons.
Upload Miifoto backgrounds from the Internet Archive.
Upload my own screenshots from 3DS, Switch, and mobile games.
Write for Miitopia: Casting Call in sandbox.
Friend Codes
Let's play together with our Miis!
Nintendo Switch: 4106-6771-3326 (Especially for Super Smash Bros. Ultimate, my Wii Fit Trainer is pretty good)
Pikmin Bloom: 8849 2488 4607
Mario Kart Tour: 643030346698
Trivia
At a pre-release event for Super Smash Bros. Ultimate, a Nintendo rep told me something along the lines of "By the way, you were badass with that Wii Fit Trainer." as they were wrapping up for the day.
In my Miitopia save file, my Mii is Energetic, and spent the most time as a Princess.

Additonally, when I most recently filled out my personality in Tomodachi Life, I got Confident Designer, which I honestly think is quite accurate and made me very happy.

Due to issues I was having with connecting to the Internet, most of this page was written in a Notepad document before being pasted into MiiWiki.