Miitomo
From MiiWiki
Jump to navigation
Jump to search
Miitomo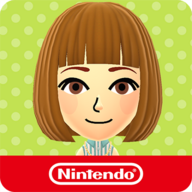 Android icon for Miitomo
Miitomo was an application released for iOS and Android, and the first mobile application released by Nintendo. It is a spin-off of the Tomodachi series in the form of an unconventional social media service. Users primarily interacted with registered friends by answering pre-written questions about themselves, on which comments could be left for further discussion. Miis could also be dressed up in a more advanced way than that seen in Tomodachi Life, with items such as tops, bottoms, socks, and shoes now chosen individually. These clothes could be bought at the Miitomo Shop with coins, or won in Miitomo Drop, a pachinko-like game where Miis are dropped and bump into obstacles until landing on a prize. Additionally, the app featured the ability to create Miifotos, images in which Miis could be placed in various poses alongside text or other decorations.
Miitomo ended service on May 9th, 2018.
Gallery
Trivia
From April 25th, 2017 until its closure, Miitomo clothes could be worn by the player's Mii in Super Mario Run.