List of games with Miis
From MiiWiki
Jump to navigation
Jump to search
This is a list of games that include Miis in minor roles (NPCs, background characters, UI icons, etc.).
Games with Miis in non-playable roles
Miis appear as characters in My Pokémon Ranch. They can interact with Pokémon using toys. In addition, pre-made characters using the Mii system appear as the owner of the player's ranch and the ranches of Club Look-See.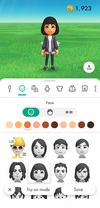 Miis are used as avatars in Pikmin Bloom.
Miis are used as avatars in Course World, the online mode. They can have their clothing customized using in-game items.
Games that only use Miis as player icons
Games that only use Miis as save data icons
Games where Miis are playable
For games that include Miis as playable characters, see the following navbox: