Mario Kart Wii
From MiiWiki
Jump to navigation
Jump to search
Mario Kart Wii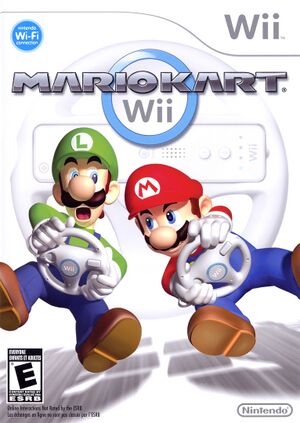 US cover artwork
Mario Kart Wii is a racing game for the Wii, developed by Nintendo EAD. The game features 24 playable Mario characters, along with two Mii types. The two Mii suits are Mii Outfit A, and Mii Outfit B.
Mii Outfit A features a simple racing suit. Mii Outfit B features overalls (based on Mario's) for male characters, and a dress (similar to Peach's) for female Miis. Both Mii Outfits' colors can be changed by changing the Mii's favorite color. The Mii's weight can also change, from light (easily bumped, but slightly faster), to medium (everything balanced), and heavy (slightly slower, but can bump characters easily). The Miis' weight is determined by their proportions in the Wii's Mii editor. Altering their weight and height in the Mii Channel can be done to change their weight in this game.
Miis also appear in several different courses as spectators. Additionally, when playing as a Mii, statues or pictures of Mario characters in the courses will have a random Mii's head.
A Mii Outfit C was planned for the game, but got cut.[1]
Gallery
References