Wii Play
From MiiWiki
Jump to navigation
Jump to search
Wii Play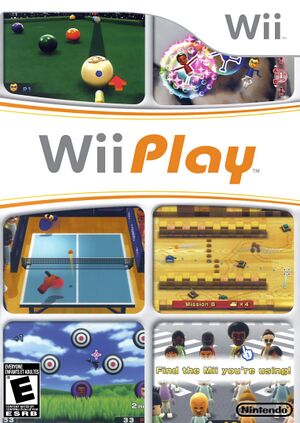 US cover artwork
Details
Developer(s)
Nintendo EAD
Publisher(s)
Nintendo
Release date(s)
December 2, 2006
December 8, 2006
December 7, 2006
February 12, 2007

Platform(s)
Wii
Rating(s)
ESRB: - Everyone
PEGI: - Ages 3+
CERO: - All ages
Game ID
RHAE01
Game chronology
Previous game
First game in series
Next game
Wii Play Motion →
 
 
Wii Play is a party game developed by Nintendo as a launch title for the Wii in Japan, Europe, and Australia. It was released in North America a few months after the Wii's release. The game contains nine minigames, all utilizing Miis. The games were designed to show off the various features of the Wii Remote. Wii Play was developed at the same time as Wii Sports, and is based on a collection of Wii demo games from E3 2006.
Although Wii Play received mixed reviews from critics, it was a commercial success, selling over 28 million copies worldwide,[1] which could be due to the game being bundled with a Wii Remote. The game retailed for $50 in the US, while a Wii Remote retailed for $40, meaning the game itself was essentially being sold for $10.
It is succeeded by Wii Play Motion.
Games
Initially, only the first game is unlocked. Completing a game once unlocks the next game.
References