Dillon's Dead-Heat Breakers
From MiiWiki
Jump to navigation
Jump to search
Dillon's Dead-Heat Breakers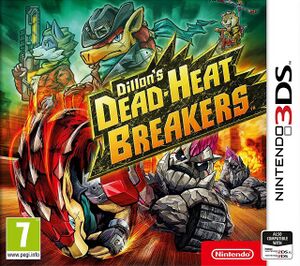 Cover artwork for the European release
Dillon's Dead-Heat Breakers is an action tower defense video game for the Nintendo 3DS developed by Vanpool. It is the third game in the Dillon's Rolling Western series. Unlike the previous installments, the game received a physical release in Japan, Europe, and Australia, though remained exclusive to the Nintendo eShop in North America.
Unlike most Mii-focused games, Miis are depicted as anthropomorphic animals and are referred to as "Amiimals".
Gameplay
Upon starting a new game, the player is asked to assign a Mii, who serves as the secondary protagonist of the game. When a Mii is selected, a barrel is dropped onto them and the player must mash the A button in order to escape. Upon escaping, the Mii is transformed into an Amiimal. If the player declines an Amiimal species, they must repeat the same method again in order to switch to another species. The player can only choose from four different species of Amiimal, which depend on the design of the Mii's face. There are a total of ten species of Amiimal, which include a Bear, Bull, Cat, Duck, Fox, Mouse, Rabbit, Sheep, Tiger, and Wolf. Once the player is done creating their Amiimal, the Mii and species cannot be changed.
In the hub world, known as "the City", the player controls their Amiimal, where they can do various activities such as upgrading their or Dillon's Gear or playing minigames to earn money. During stages, the player Amiimal instead acts as a CPU ally to Dillon, where they can fight Grocks using their gun. There are three types of guns the player's Amiimal can equip, each having 5 variants, with the level 5 variants being the strongest.
In the City's Hotel, the player can also hire NPC Amiimal gunners and assign them to bases in stages, where they will attack any Grocks within their range. Each gunner comes with their own weapon, which vary in power, range, and energy consumption. At the end of a stage, each gunner receives experience points depending on how many Grocks they defeated. If a gunner's base is destroyed, the gunner will be permanently unavailable to hire for future stages. If the player enters a stage without hiring any gunners, they are given the option to hire villagers instead for free, though they will be significantly weaker.
Gallery