MiiWiki has finished the switch of server hosts. If you run into any technical errors, please report them on the Discord server (or here if you're not on the Discord).
Mario Party 8
From MiiWiki
Jump to navigation
Jump to search
Mario Party 8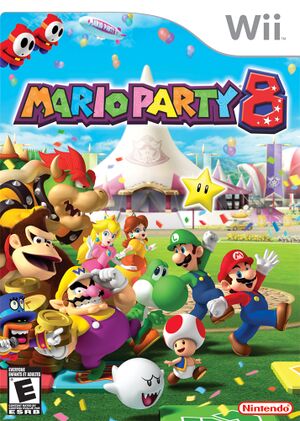 US cover artwork
Mario Party 8 is a party game for the Wii, developed by Hudson Soft. The game features 14 playable Mario characters (two are unlockable by clearing the Star Battle Arena) along with Miis being playable in Extras Mode. Miis lack voices and wear overalls, gloves, and shoes like the Mario brothers that are colored blue if the Mii is P1, red if P2, green if P3 and yellow if P4.
Miis also appear in several different minigames as spectators.