Wii Sports Resort
From MiiWiki
Jump to navigation
Jump to search
Wii Sports Resort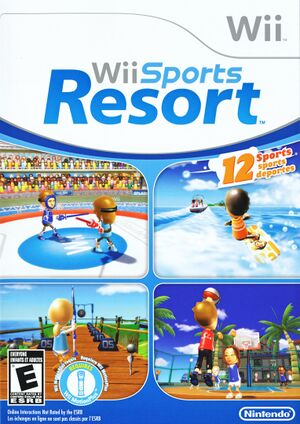 US cover artwork
Details
Developer(s)
Nintendo EAD
Publisher(s)
Nintendo
Release date(s)
June 25, 2009
July 24, 2009
July 23, 2009
July 26, 2009

Platform(s)
Wii
Rating(s)
ESRB: - Everyone
PEGI: - Ages 3+
CERO: - All ages
Game ID
RZTE01
Game chronology
Previous game
← Wii Sports
Next game
Wii Sports Club →
 
 
Wii Sports Resort is a game released in 2009 for the Wii as the successor to Wii Sports. The game comes bundled with the Wii Motion Plus accessory which is required to play the game. It was later bundled in new Wii consoles alongside Wii Sports.
Gameplay
Wii Sports Resort consists of multiple different modes, with the twelve main modes being Wakeboarding, Frisbee, Archery, Basketball, Table Tennis, Golf, Bowling, Power Cruising, Canoeing, Cycling, Air Sports and Swordplay. All modes use the Wii Motion Plus Attachment and Archery, Power Cruising, and Cycling use the nunchuck attachment. Just like the original Wii Sports, the player uses the controller to perform motions similar to those in real-life sports, such as using the remote as a golf club or a bowling ball. The rules and mechanics of the games are simplified to be easier for first-time players, as well as younger players.
Miis are awarded skill points from winning games, but they lose points from coming in last place, or sometimes 2nd or 3rd place as well. The amount of points won or lost depends on various factors such as the skill of the other players, the difficulty of the game, and the amount of skill the player already has. If the player possesses a large enough amount of skill more than the other players, no skill will be awarded when winning. Miis have separate amounts of skill for each of the Twelve games. Skill is attributed to a Mii, however, skill is not transferred when a Mii is imported to another console.
If there is an insufficient amount of players in Table Tennis, Canoeing, or Swordplay, one of 60 CPU players will be used. Each CPU player has a unique but unchanging skill level. Players are matched with CPU players of a similar skill level. Once the player's skill level goes up, new CPU players with a higher skill will be played against. Wakeboarding, Frisbee, Archery, Golf, Bowling, Power Cruising, and certain Air Sports modes can be played alone, as in real-life, with the object of the game then being to obtain a new personal best.
Wii Sports Club is a remake of Wii Sports and a sequel to Wii Sports Resort where all five of the original's sports use the Wii MotionPlus accessory.
List of sports
Trivia
Wii Sports Resort was the first first-party game to require the Wii MotionPlus accessory.
Gallery