Sportsmate
From MiiWiki
Jump to navigation
Jump to search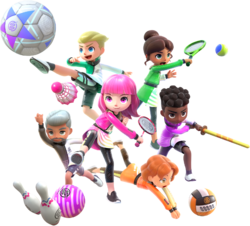 Sportsmates are playable characters used in Nintendo Switch Sports. While Miis are still playable in the game, Sportsmates appear to be the actual mascots. Sportsmates can be played by choosing the "Human" body option in the customization screen of the game. Their skin color, facial features, hair, and outfits can be customized.
Gallery
Artwork of Sportsmates playing tennis
Trivia
During the Nintendo Switch Sports Online Play Test, Sportsmates could not be customized. Instead, players had to select from a group of preset characters.
Unlike Miis in this game, Sportsmates can wear in-game facial accessories and hats.
Several designs for the characters in Nintendo Switch Sports were considered before Sportsmates, including robots, round characters without arms or legs, and college students.[1]
References