Stuff
From MiiWiki
Jump to navigation
Jump to search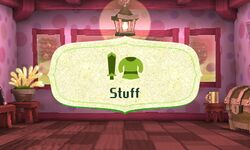 Stuff is the name of equipment in Miitopia. It comes in two types: clothing and weapons. With the exception of amiibo clothing, each job can only use that job's Stuff. (The two different Pop Star variations can use each other's weapons, but not clothing.) The appearance of Stuff can be changed independently of the stat boosts from it, and if doing so, headgear and bodygear can be changed independently. (Headgear can also be cosmetically removed.) Stuff can be bought from the catalog, but only after it is obtained. Stuff can be obtained through a Mii buying it at the Inn, teasure chests, Traveler's Hub quests, and roulette (the last of which is also the only way to get ragged clothing). All clothing has alternate colors (except for default clothing and all amiibo clothing except for Yoshi, Toad, Inkling Boy, Inkling Girl, Squid, and Samus).
amiibo clothing
Main article: Nintendo Fan#Supported amiibo
amiibo clothing is purely cosmetic and can only be obtained from the Nintendo Fan.
List of job-specific clothing
| Name | Required level | Cost | Defense boost | Image  |
| --- | --- | --- | --- | --- |
| Squire Armor | 1 | 100 | 1 | |
| Leather Armor | 2 | 140 | 5 | |
| Bee Armor | 3 | 210 | 9 | |
| Copper Armor | 4 | 310 | 13 | |
| Polka-Dot Armor | 5 | 430 | 17 | |
| Monster Armor | 6 | 570 | 21 | |
| Adventure Armor | 7 | 730 | 25 | |
| Wooly Armor | 8 | 920 | 29 | |
| Iron Armor | 9 | 1100 | 33 | |
| Bronze Armor | 10 | 1300 | 38 | |
| Macho Armor | 11 | 1600 | 41 | |
| Camo Armor | 12 | 1900 | 46 | |
| Silver Armor | 13 | 220 | 49 | |
| Heart Armor | 14 | 2500 | 54 | |
| Garish Armor | 15 | 2900 | 59 | |
| Magical Armor | 17 | 3700 | 67 | |
| Super Armor | 19 | 4600 | 75 | |
| Steel Armor | 21 | 5500 | 84 | |
| Hero Armor | 23 | 6600 | 92 | |
| Shell Armor | 25 | 7800 | 101 | |
| Ancient Armor | 27 | 9000 | 109 | |
| Viking Armor | 29 | 10000 | 118 | |
| Raven Armor | 31 | 11000 | 127 | |
| Neon Armor | 33 | 13000 | 136 | |
| Gold Armor | 35 | 1500 | 145 | |
| Space Armor | 38 | 17000 | 158 | |
| Samurai Armor | 41 | 20000 | 171 | |
| Sacred Armor | 44 | 23000 | 185 | |
| Dragon Armor | 47 | 27000 | 199 | |
| Legendary Armor | 50 | 30000 | 213 | |
| Ragged Armor | N/A | 50 | 0 | |
| Name | Required Level | Cost | Defense boost | Image  |
| --- | --- | --- | --- | --- |
| Apprentice Robe | 1 | 100 | 1 | |
| Linen Robe | 2 | 140 | 4 | |
| Magical Robe | 3 | 210 | 7 | |
| Clown Robe | 4 | 310 | 10 | |
| Polka-Dot Robe | 5 | 430 | 14 | |
| Leather Robe | 6 | 570 | 16 | |
| Suit Robe | 7 | 730 | 20 | |
| Woolly Robe | 8 | 920 | 23 | |
| Silk Robe | 9 | 1100 | 26 | |
| Crossed-Heart Robe | 10 | 1300 | 30 | |
| Macho Robe | 11 | 1600 | 32 | |
| Dancer's Robe | 12 | 1900 | 36 | |
| Kimono Robe | 13 | 2200 | 39 | |
| Heart Robe | 14 | 2500 | 42 | |
| Rune Robe | 15 | 2900 | 46 | |
| Cheerful Robe | 17 | 3700 | 52 | |
| Super Robe | 19 | 4600 | 59 | |
| Spirit Robe | 21 | 5500 | 66 | |
| Hero Robe | 23 | 6600 | 72 | |
| Zip Robe | 25 | 7800 | 79 | |
| Sparkling Robe | 27 | 9000 | 86 | |
| Tin Robe | 29 | 10000 | 93 | |
| Faux-Snakeskin Robe | 32 | 12000 | 103 | |
| Pufer Jacket Robe | 35 | 15000 | 113 | |
| Black Magic Robe | 38 | 17000 | 123 | |
| Celebrity Robe | 41 | 20000 | 134 | |
| Sorcerer | 44 | 23000 | 145 | |
| Magma Robe | 47 | 27000 | 156 | |
| Legendary Robe | 50 | 30000 | 167 | |
| Ragged Robe | N/A | 50 | 0 | |
| Name | Required Level | Cost | Defense boost | Image  |
| --- | --- | --- | --- | --- |
| Novice Vestments | 1 | 100 | 1 | |
| Morning Vestments | 2 | 140 | 3 | |
| Frilly Vestments | 3 | 210 | 6 | |
| Wicker Vestments | 4 | 310 | 9 | |
| Polka-Dot Vestments | 5 | 430 | 12 | |
| Leather Vestments | 6 | 570 | 14 | |
| Penguin Vestments | 7 | 730 | 18 | |
| Woolly Vestments | 8 | 920 | 20 | |
| Prayer Vestments | 9 | 1100 | 23 | |
| Bread Vestments | 10 | 1300 | 26 | |
| Macho Vestments | 11 | 1600 | 29 | |
| Silk Vestments | 12 | 1900 | 32 | |
| Puzzle Vestments | 13 | 2200 | 34 | |
| Sunlight Vestments | 14 | 2500 | 38 | |
| Heart Vestments | 15 | 2900 | 41 | |
| Ghost Vestments | 17 | 3700 | 46 | |
| Super Vestments | 19 | 4600 | 52 | |
| Mystic Vestments | 21 | 5500 | 58 | |
| Hero Vestments | 23 | 6600 | 64 | |
| Matryoshka Vestments | 25 | 7800 | 70 | |
| Enlightened Vestments | 27 | 9000 | 76 | |
| Tin Vestments | 29 | 10000 | 82 | |
| Judgement Vestments | 32 | 12000 | 91 | |
| Glass Vestments | 35 | 15000 | 101 | |
| Sacred Vestments | 38 | 17000 | 110 | |
| Bell Vestments | 41 | 20000 | 119 | |
| Holy Vestments | 44 | 23000 | 129 | |
| Japanese Vestments | 47 | 27000 | 138 | |
| Legendary Vestments | 50 | 30000 | 148 | |
| Ragged Vestments | N/A | 50 | 0 | |
| Name | Required Level | Cost | Defense boost | Image  |
| --- | --- | --- | --- | --- |
| Apprentice Gear | 1 | 100 | 1 | |
| Leather Gear | 2 | 140 | 4 | |
| Outdoor Gear | 3 | 210 | 9 | |
| Chick Gear | 4 | 310 | 12 | |
| Polka-Dot Gear | 5 | 430 | 17 | |
| Pirate Gear | 6 | 570 | 20 | |
| Desert Gear | 7 | 730 | 25 | |
| Woolly Gear | 8 | 920 | 28 | |
| Silk Gear | 9 | 1100 | 32 | |
| Swimming Gear | 10 | 1300 | 37 | |
| Macho Gear | 11 | 1600 | 40 | |
| Faux-Fur Gear | 12 | 1900 | 45 | |
| Monster Gear | 13 | 2200 | 48 | |
| Heart Gear | 14 | 2500 | 53 | |
| Stone Gear | 15 | 2900 | 57 | |
| Ice Cream Gear | 17 | 3700 | 65 | |
| Super Gear | 19 | 4600 | 73 | |
| Punk Gear | 21 | 5500 | 82 | |
| Hero Gear | 23 | 6600 | 90 | |
| Skeleton Gear | 25 | 7800 | 99 | |
| Ninja Gear | 27 | 9000 | 106 | |
| Hip-Hop Gear | 29 | 10000 | 115 | |
| Lightning Gear | 32 | 12000 | 128 | |
| Mushroom Gear | 35 | 15000 | 141 | |
| Steel Gear | 38 | 17000 | 153 | |
| Ancient Gear | 41 | 20000 | 167 | |
| High-Tech Gear | 44 | 23000 | 180 | |
| Pharaoh Gear | 47 | 27000 | 194 | |
| Legendary Gear | 50 | 30000 | 207 | |
| Ragged Gear | N/A | 50 | 0 | |
| Name | Required Level | Cost | Defense boost | Image  |
| --- | --- | --- | --- | --- |
| Debutante Outfit | 1 | 100 | 1 | |
| Strawberry Outfit | 3 | 210 | 7 | |
| Polka-Dot Outfit | 5 | 430 | 13 | |
| Gingham Outfit | 7 | 730 | 19 | |
| Macho Outfit | 9 | 1100 | 26 | |
| Heart Outfit | 11 | 1600 | 32 | |
| Gothic Punk Outfit | 14 | 2500 | 41 | |
| Kimono Outfit | 17 | 3700 | 51 | |
| Fairy Outfit | 20 | 5000 | 61 | |
| Hero Outfit | 24 | 7200 | 74 | |
| School Outfit | 28 | 9700 | 87 | |
| Super Outfit | 32 | 12000 | 100 | |
| Woolly Outfit | 37 | 16000 | 117 | |
| Aurora Outfit | 44 | 23000 | 142 | |
| Legendary Outfit | 50 | 30000 | 163 | |
| Ragged Outfit | N/A | 50 | 0 | |
| Name | Required Level | Cost | Defense boost | Image  |
| --- | --- | --- | --- | --- |
| Debutant Threads | 1 | 100 | 1 | |
| Casual Threads | 3 | 210 | 7 | |
| Polka-Dot Threads | 5 | 430 | 13 | |
| Wild Threads | 7 | 730 | 19 | |
| Macho Threads | 9 | 1100 | 26 | |
| Heart Threads | 11 | 1600 | 32 | |
| Colorful Threads | 14 | 2500 | 41 | |
| Tuxedo Threads | 17 | 3700 | 51 | |
| Prince Threads | 20 | 5000 | 61 | |
| Hero Threads | 24 | 7200 | 74 | |
| Smart Threads | 28 | 9700 | 87 | |
| Super Threads | 32 | 12000 | 100 | |
| Woolly Threads | 37 | 16000 | 117 | |
| Sparkling Threads | 44 | 23000 | 142 | |
| Legendary Threads | 50 | 30000 | 163 | |
| Ragged Threads | N/A | 50 | 0 | |
| Name | Required Level | Cost | Defense boost | Image  |
| --- | --- | --- | --- | --- |
| Commis Uniform | 1 | 100 | 1 | |
| Pro Uniform | 2 | 140 | 4 | |
| Frilly Uniform | 3 | 210 | 8 | |
| Newsprint Uniform | 4 | 310 | 11 | |
| Polka-Dot Uniform | 5 | 430 | 15 | |
| Chinese Uniform | 6 | 570 | 18 | |
| Outlandish Uniform | 7 | 730 | 22 | |
| Woolly Uniform | 8 | 920 | 25 | |
| Leather Uniform | 9 | 1100 | 29 | |
| Wooden Uniform | 10 | 1300 | 33 | |
| Macho Uniform | 11 | 1600 | 36 | |
| Wonder Uniform | 12 | 1900 | 40 | |
| Chocolate Uniform | 13 | 2200 | 43 | |
| Heart Uniform | 14 | 2500 | 47 | |
| Checked Uniform | 15 | 2900 | 51 | |
| Halloween Uniform | 17 | 3700 | 58 | |
| Super Uniform | 19 | 4600 | 65 | |
| Flame Uniform | 21 | 5500 | 73 | |
| Hero Uniform | 23 | 6600 | 80 | |
| Grapes Uniform | 25 | 7800 | 88 | |
| Sailor Uniform | 27 | 9000 | 95 | |
| Sweet Uniform | 29 | 10000 | 103 | |
| Sinister Uniform | 32 | 12000 | 114 | |
| Robot Uniform | 35 | 15000 | 126 | |
| Three-Star Uniform | 38 | 17000 | 137 | |
| Statue Uniform | 41 | 20000 | 149 | |
| Monster Uniform | 44 | 23000 | 161 | |
| Sushi Chef Uniform | 47 | 27000 | 173 | |
| Legendary Uniform | 50 | 30000 | 185 | |
| Ragged Uniform | N/A | 50 | 0 | |
| Name | Required Level | Cost | Defense boost | Image  |
| --- | --- | --- | --- | --- |
| Kitten Suit | 1 | 100 | 1 | |
| Spotted Cat Suit | 2 | 140 | 4 | |
| Casual Cat Suit | 3 | 210 | 8 | |
| Outlandish Cat Suit | 4 | 310 | 12 | |
| Polka-Dot Cat Suit | 5 | 430 | 16 | |
| Tabby Cat Suit | 6 | 570 | 19 | |
| Pajama Cat Suit | 7 | 730 | 23 | |
| Woolly Cat Suit | 8 | 920 | 26 | |
| Bengall Cat Suit | 9 | 1100 | 30 | |
| Leotard Cat Suit | 10 | 1300 | 35 | |
| Macho Cat Suit | 11 | 1600 | 38 | |
| Calico Cat Suit | 12 | 1900 | 42 | |
| Gentleman Cat Suit | 13 | 2200 | 45 | |
| Heart Cat Suit | 14 | 2500 | 49 | |
| Siamese Cat Suit | 15 | 2900 | 54 | |
| Kimono Jacket Cat Suit | 17 | 3700 | 61 | |
| Super Cat Suit | 19 | 4600 | 68 | |
| Sphynx Cat Suit | 21 | 5500 | 77 | |
| Hero Cat Suit | 23 | 6600 | 84 | |
| Puss in Boots Suit | 25 | 7800 | 92 | |
| Fluffy Cat Suit | 27 | 9000 | 100 | |
| Maid Cat Suit | 29 | 10000 | 108 | |
| Leather Cat Suit | 32 | 12000 | 120 | |
| Egyptian Cat Suit | 35 | 15000 | 132 | |
| Werewolf Cat Suit | 38 | 17000 | 144 | |
| Robot Cat Suit | 41 | 20000 | 156 | |
| Dinosaur Cat Suit | 44 | 23000 | 169 | |
| Stationmaster Cat Suit | 47 | 27000 | 182 | |
| Legendary Cat Suit | 50 | 30000 | 194 | |
| Ragged Cat Suit | N/A | 50 | 0 | |
| Name | Required Level | Cost | Defense boost | Image  |
| --- | --- | --- | --- | --- |
| Training Costume | 1 | 100 | 1 | |
| Bat Costume | 2 | 140 | 4 | |
| Uniform Costume | 3 | 210 | 9 | |
| Fairy Costume | 4 | 310 | 12 | |
| Polka-Dot Costume | 5 | 430 | 17 | |
| Goat Costume | 6 | 570 | 20 | |
| Leather Costume | 7 | 730 | 24 | |
| Woolly Costume | 8 | 920 | 28 | |
| Demon Costume | 9 | 1100 | 32 | |
| Lacy Costume | 10 | 1300 | 36 | |
| Macho Costume | 11 | 1600 | 40 | |
| Mummy Costume | 12 | 1900 | 44 | |
| Statue Costume | 13 | 2200 | 47 | |
| Heart Costume | 14 | 2500 | 52 | |
| Rock Costume | 15 | 2900 | 56 | |
| Egyptian Costume | 17 | 3700 | 64 | |
| Super Costume | 19 | 4600 | 72 | |
| Odd Bird Costume | 21 | 5500 | 80 | |
| Hero Costume | 23 | 6600 | 88 | |
| Harlequin Costume | 25 | 7800 | 97 | |
| Silver Costume | 27 | 9000 | 105 | |
| Neon Costume | 29 | 10000 | 113 | |
| Steampunk Costume | 32 | 12000 | 125 | |
| Lightning Costume | 35 | 15000 | 139 | |
| Squid Costume | 38 | 17000 | 151 | |
| Robot Costume | 41 | 20000 | 164 | |
| Dragon Costume | 44 | 23000 | 177 | |
| Angel Costume | 47 | 27000 | 190 | |
| Legendary Costume | 50 | 30000 | 204 | |
| Ragged Costume | N/A | 50 | 0 | |
| Name | Required Level | Cost | Defense boost | Image  |
| --- | --- | --- | --- | --- |
| Student Lab Gear | 1 | 100 | 1 | |
| Experiment Lab Gear | 2 | 140 | 3 | |
| Outlandish Lab Gear | 3 | 210 | 7 | |
| Toy Lab Gear | 4 | 310 | 9 | |
| Polka-Dot Lab Gear | 5 | 430 | 13 | |
| Smart Lab Gear | 6 | 570 | 15 | |
| Two-Tone Lab Gear | 7 | 730 | 19 | |
| Woolly Lab Gear | 8 | 920 | 21 | |
| Watch Lab Gear | 9 | 1100 | 25 | |
| Minimalist Lab Gear | 10 | 1300 | 28 | |
| Macho Lab Gear | 11 | 1600 | 31 | |
| Metallic Lab Gear | 12 | 1900 | 34 | |
| Tropical Lab Gear | 13 | 2200 | 37 | |
| Heart Lab Gear | 14 | 2500 | 40 | |
| Explosion Lab Gear | 15 | 2900 | 43 | |
| Masquerade Lab Gear | 17 | 3700 | 49 | |
| Super Lab Gear | 19 | 4600 | 55 | |
| Eyeball Lab Gear | 21 | 5500 | 62 | |
| Hero Lab Gear | 23 | 6600 | 68 | |
| Japanese Lab Gear | 25 | 7800 | 75 | |
| Cyber Lab Gear | 27 | 9000 | 81 | |
| Snazzy Lab Gear | 29 | 10000 | 88 | |
| Steampunk Lab Gear | 32 | 12000 | 97 | |
| Pirate Lab Gear | 35 | 15000 | 107 | |
| Slime Lab Gear | 38 | 17000 | 116 | |
| Rose Lab Gear | 41 | 20000 | 127 | |
| Hight-Tech Lab Gear | 44 | 23000 | 137 | |
| Star Lab Gear | 47 | 27000 | 147 | |
| Legendary Lab Gear | 50 | 30000 | 157 | |
| Ragged Lab Gear | N/A | 50 | 0 | |
| Name | Required Level | Cost | Defense boost | Image  |
| --- | --- | --- | --- | --- |
| Training Tank | 1 | 100 | 1 | |
| Wooden Tank | 2 | 140 | 5 | |
| Cardboard Tank | 3 | 210 | 10 | |
| Fancy Tank | 4 | 310 | 13 | |
| Polka-Dot Tank | 5 | 430 | 18 | |
| Toy Tank | 6 | 570 | 22 | |
| Patchwork Tank | 7 | 730 | 26 | |
| Woolly Tank | 8 | 920 | 30 | |
| Camo Tank | 9 | 1100 | 35 | |
| Billiard Tank | 10 | 1300 | 40 | |
| Macho Tank | 11 | 1600 | 43 | |
| Rusty Tank | 12 | 1900 | 48 | |
| Octopus Tank | 13 | 2200 | 52 | |
| Heart Tank | 14 | 2500 | 56 | |
| Brick Tank | 15 | 2900 | 61 | |
| Tiger Tank | 17 | 3700 | 70 | |
| Super Tank | 19 | 4600 | 78 | |
| Camo Tank II | 21 | 5500 | 88 | |
| Hero Tank | 23 | 6600 | 96 | |
| Watermelon Tank | 25 | 7800 | 106 | |
| Ice Tank | 27 | 9000 | 114 | |
| Graffiti Tank | 29 | 10000 | 124 | |
| Steampunk Tank | 32 | 12000 | 137 | |
| Lacquered Tank | 35 | 15000 | 151 | |
| Titanium Tank | 38 | 17000 | 164 | |
| Neon Tank | 41 | 20000 | 179 | |
| Acropolis Tank | 44 | 23000 | 193 | |
| Disco Ball Tank | 47 | 27000 | 208 | |
| Legendary Tank | 50 | 30000 | 222 | |
| Ragged Tank | N/A | 50 | 0 | |
| Name | Required Level | Cost | Defense boost | Image  |
| --- | --- | --- | --- | --- |
| Debtante Gown | 1 | 100 | 1 | |
| Silk Gown | 2 | 140 | 3 | |
| Peasent Gown | 3 | 210 | 6 | |
| Embroidered Gown | 4 | 310 | 8 | |
| Polka-Dot Gown | 5 | 430 | 11 | |
| Celestial Gown | 6 | 570 | 14 | |
| Sailor Gown | 7 | 730 | 17 | |
| Woolly Gown | 8 | 920 | 19 | |
| Queen Bee Gown | 9 | 1100 | 22 | |
| Nurse Gown | 10 | 1300 | 25 | |
| Macho Gown | 11 | 1600 | 27 | |
| Chinese Gown | 12 | 1900 | 30 | |
| Punk Gown | 13 | 2200 | 32 | |
| Heart Gown | 14 | 2500 | 35 | |
| Witch Gown | 15 | 2900 | 38 | |
| Colorful Gown | 17 | 3700 | 44 | |
| Super Gown | 19 | 4600 | 49 | |
| Floral Gown | 21 | 5500 | 55 | |
| Hero Gown | 23 | 6600 | 60 | |
| Maid Gown | 25 | 7800 | 66 | |
| Olympian Gown | 27 | 9000 | 71 | |
| Futuristic Gown | 29 | 10000 | 77 | |
| Crystal Gown | 32 | 12000 | 86 | |
| Disco Gown | 35 | 15000 | 95 | |
| Wedding Gown | 38 | 17000 | 103 | |
| Kimono Gown | 41 | 20000 | 112 | |
| Sweet Gown | 44 | 23000 | 121 | |
| Valkyrie | 47 | 27000 | 130 | |
| Legendary Gown | 50 | 30000 | 139 | |
| Ragged Gown | N/A | 50 | 0 | |
| Name | Required level | Cost | Defense boost | Image  |
| --- | --- | --- | --- | --- |
| Budding Flower | 1 | 100 | 1 | |
| Cherry Blossom | 2 | 140 | 4 | |
| Scribble Flower | 3 | 210 | 8 | |
| Stained-Glass Flower | 4 | 310 | 10 | |
| Polka-Dot Flower | 5 | 430 | 14 | |
| Violet | 6 | 570 | 17 | |
| Mandrake | 7 | 730 | 21 | |
| Woolly Flower | 8 | 920 | 24 | |
| Dandelion | 9 | 1100 | 28 | |
| Dried Flower | 10 | 1300 | 31 | |
| Macho Flower | 11 | 1600 | 34 | |
| Sunflower | 12 | 1900 | 38 | |
| Mushroom Flower | 13 | 2200 | 41 | |
| Heart Flower | 14 | 2500 | 45 | |
| Rose Suit | 15 | 2900 | 48 | |
| Peacock Flower | 17 | 3700 | 55 | |
| Sper Flower | 19 | 4600 | 62 | |
| Four-Leaf Clover | 21 | 5500 | 69 | |
| Hero Flower | 23 | 6600 | 76 | |
| Sea Anemone Flower | 25 | 7800 | 84 | |
| Lotus | 27 | 9000 | 90 | |
| Robot Flower | 29 | 10000 | 98 | |
| Cactus Flower | 32 | 12000 | 108 | |
| Goddess Flower | 35 | 15000 | 120 | |
| Rafflesia | 38 | 17000 | 130 | |
| Crystal Flower | 41 | 20000 | 142 | |
| Venus Flytrap | 44 | 23000 | 153 | |
| Flower Bouqet | 47 | 27000 | 164 | |
| Legendary Flower | 50 | 30000 | 176 | |
| Ragged Flower | N/A | 50 | 0 | |
| Name | Required level | Cost | Defense boost | Image  |
| --- | --- | --- | --- | --- |
| Thrall Suit | 1 | 100 | 1 | |
| Rose Suit | 2 | 140 | 4 | |
| Lovely Suit | 3 | 210 | 8 | |
| Leprechaun Suit | 4 | 310 | 12 | |
| Polka-Dot Suit | 5 | 430 | 16 | |
| White Suit | 6 | 570 | 19 | |
| Plaid Suit | 7 | 730 | 23 | |
| Woolly Suit | 8 | 920 | 26 | |
| Leather Suit | 9 | 1100 | 30 | |
| Magician Suit | 10 | 1300 | 35 | |
| Macho Suit | 11 | 1600 | 38 | |
| Darkness Suit | 12 | 1900 | 42 | |
| Stylish Suit | 13 | 2200 | 45 | |
| Heart Suit | 14 | 2500 | 49 | |
| Frilly Suit | 15 | 2900 | 54 | |
| Sweet Suit | 17 | 3700 | 61 | |
| Super Suit | 19 | 4600 | 68 | |
| Velvet Suit | 21 | 5500 | 77 | |
| Hero Suit | 23 | 6600 | 84 | |
| Brat Suit | 25 | 7800 | 92 | |
| Silver Suit | 27 | 9000 | 100 | |
| Gift Suit | 29 | 10000 | 108 | |
| Gold Suit | 32 | 12000 | 120 | |
| Tin Suit | 35 | 15000 | 132 | |
| Demon Suit | 38 | 17000 | 144 | |
| Kimono Suit | 41 | 20000 | 156 | |
| Platinum Suit | 44 | 23000 | 169 | |
| Aquarium Suit | 47 | 27000 | 182 | |
| Legendary Suit | 50 | 30000 | 194 | |
| Ragged Suit | N/A | 50 | 0 | |
| Name | Required level | Cost | Defense boost | Image  |
| --- | --- | --- | --- | --- |
| Sprite Raiment | 1 | 100 | 1 | |
| Leather Raiment | 2 | 140 | 5 | |
| Bee Raiment | 3 | 210 | 9 | |
| Flower Raiment | 4 | 310 | 13 | |
| Polka-Dot Raiment | 5 | 430 | 17 | |
| Iron Raiment | 6 | 570 | 21 | |
| Poncho Raiment | 7 | 730 | 25 | |
| Woolly Raiment | 8 | 920 | 29 | |
| Silver Raiment | 9 | 1100 | 33 | |
| Lumberjack Raiment | 10 | 1300 | 38 | |
| Macho Raiment | 11 | 1600 | 41 | |
| Wind Raiment | 12 | 1900 | 46 | |
| Colorful Raiment | 13 | 2200 | 49 | |
| Heart Raiment | 14 | 2500 | 54 | |
| Wisdom Raiment | 15 | 2900 | 59 | |
| Fluffy Raiment | 17 | 3700 | 67 | |
| Super Raiment | 19 | 4600 | 75 | |
| Spirit Raiment | 21 | 5500 | 84 | |
| Hero Raiment | 23 | 6600 | 92 | |
| Crystal Raiment | 25 | 7800 | 101 | |
| Dark Raiment | 27 | 9000 | 109 | |
| Kyudo Raiment | 29 | 10000 | 118 | |
| Fairy Raiment | 32 | 12000 | 131 | |
| Ballet Raiment | 35 | 15000 | 145 | |
| Sacred Raiment | 38 | 17000 | 158 | |
| Robot Raiment | 41 | 20000 | 171 | |
| Dragon Raiment | 44 | 23000 | 185 | |
| Heavy Metal Raiment | 47 | 27000 | 199 | |
| Legendary Raiment | 50 | 30000 | 213 | |
| Ragged Raiment | N/A | 50 | 0 | |
List of weapons
Warrior
| Name | Required level | Cost | Attack boost | Image  |
| --- | --- | --- | --- | --- |
| Squire Sword | 1 | 100 | 1 | |
| Bronze Sword | 2 | 140 | 3 | |
| Bee Sword | 4 | 310 | 10 | |
| Pink RIbbon Sword | 6 | 570 | 16 | |
| Steel Sword | 8 | 920 | 23 | |
| Chopper Sword | 10 | 1300 | 31 | |
| Utility Sword | 12 | 1900 | 37 | |
| Paladin Sword | 14 | 2500 | 45 | |
| Dragon Sword | 16 | 3300 | 53 | |
| Black Katana | 18 | 4100 | 61 | |
| Arm-Wrestling Sword | 20 | 5000 | 70 | |
| Hero Sword | 23 | 6600 | 84 | |
| Pharaoh Sword | 26 | 8400 | 98 | |
| Turquoise Ribbon Sword | 29 | 10000 | 113 | |
| Muscle Sword | 32 | 12000 | 129 | |
| Light Sword | 35 | 15000 | 145 | |
| Black Dragon Sword | 38 | 17000 | 163 | |
| Magma Katana | 41 | 20000 | 180 | |
| Emperor Sword | 45 | 24000 | 205 | |
| Legendary Sword | 50 | 30000 | 238 | |
Mage
| Name | Required level | Cost | Attack boost | Magic boost | Image  |
| --- | --- | --- | --- | --- | --- |
| Apprentice Wand | 1 | 100 | 1 | 2 | |
| Broomstick | 2 | 140 | 2 | 4 | |
| Copper Wand | 4 | 310 | 5 | 10 | |
| Iron Wand | 6 | 570 | 7 | 15 | |
| Star Wand | 8 | 920 | 10 | 21 | |
| Night Wand | 10 | 1300 | 14 | 27 | |
| Arcane Wand | 12 | 1900 | 17 | 32 | |
| Crystal Wand | 14 | 2500 | 20 | 40 | |
| Heart Wand | 16 | 3300 | 24 | 46 | |
| Bouquet Wand | 18 | 4100 | 27 | 53 | |
| Hand Wand | 20 | 5000 | 31 | 61 | |
| Hero Wand | 23 | 6600 | 37 | 72 | |
| Sorcerer Wand | 26 | 8400 | 44 | 86 | |
| Green Heart Wand | 29 | 10000 | 50 | 99 | |
| Green Bouquet Wand | 32 | 12000 | 57 | 112 | |
| Demonic Wand | 35 | 15000 | 64 | 127 | |
| Twilight Wand | 38 | 17000 | 72 | 141 | |
| Mystic Wand | 41 | 20000 | 80 | 158 | |
| Diabolical Wand | 45 | 24000 | 91 | 181 | |
| Legendary Wand | 50 | 30000 | 106 | 209 | |
Cleric
| Name | Required level | Cost | Attack boost | Magic boost | Image  |
| --- | --- | --- | --- | --- | --- |
| Novice Staff | 1 | 100 | 1 | 2 | |
| Squeaky Staff | 2 | 140 | 3 | 4 | |
| Silver Staff | 4 | 310 | 8 | 9 | |
| Lollipop Staff | 6 | 570 | 13 | 14 | |
| Golden Staff | 8 | 920 | 18 | 20 | |
| Alien Staff | 10 | 1300 | 25 | 25 | |
| Jeweled Staff | 12 | 1900 | 30 | 31 | |
| Illuminating Staff | 14 | 2500 | 37 | 38 | |
| Sacred Staff | 16 | 3300 | 43 | 43 | |
| Ritual Staff | 18 | 4100 | 50 | 50 | |
| Key Staff | 20 | 5000 | 57 | 58 | |
| Hero Staff | 23 | 6600 | 68 | 68 | |
| Solar Staff | 26 | 8400 | 80 | 81 | |
| Queenly Staff | 29 | 10000 | 92 | 94 | |
| Flame Staff | 32 | 12000 | 105 | 106 | |
| Extraterrestial Staff | 35 | 15000 | 118 | 121 | |
| Mystery Staff | 38 | 17000 | 132 | 133 | |
| Miracle Staff | 41 | 20000 | 146 | 149 | |
| Dragon King Staff | 45 | 24000 | 167 | 171 | |
| Legendary Staff | 50 | 30000 | 194 | 198 | |
Thief
| Name | Required level | Cost | Attack boost | Image  |
| --- | --- | --- | --- | --- |
| Apprentice Dagger | 1 | 100 | 1 | |
| Toy Dagger | 2 | 140 | 3 | |
| Sharp Dagger | 4 | 310 | 8 | |
| Chef's Dagger | 6 | 570 | 13 | |
| Ceramic Dagger | 8 | 920 | 18 | |
| Moai Dagger | 10 | 1300 | 24 | |
| Silver Dagger | 12 | 1900 | 30 | |
| Fish | 14 | 2500 | 36 | |
| Shining Dagger | 16 | 3300 | 42 | |
| Heart Dagger | 18 | 4100 | 49 | |
| Night Dagger | 20 | 5000 | 56 | |
| Hero Dagger | 23 | 6600 | 67 | |
| Platinum Moai Dagger | 26 | 8400 | 78 | |
| Ancient Dagger | 29 | 10000 | 90 | |
| Shuriken | 32 | 12000 | 103 | |
| Mystic Dagger | 35 | 15000 | 115 | |
| Poison Dagger | 38 | 17000 | 130 | |
| Egyptian Dagger | 41 | 20000 | 143 | |
| Ninja Star | 45 | 24000 | 163 | |
| Legendary Dagger | 50 | 30000 | 190 | |
Pop Star
| Name | Required level | Cost | Attack boost | Image  |
| --- | --- | --- | --- | --- |
| Debut Mic | 1 | 100 | 1 | |
| Megaphone | 2 | 140 | 3 | |
| Ribbon Mic | 4 | 310 | 8 | |
| Ice Cream Mic | 6 | 570 | 12 | |
| Rainbow mic | 8 | 920 | 17 | |
| Whisk Mic | 10 | 1300 | 23 | |
| Star Mic | 12 | 1900 | 28 | |
| Sparkling Mic | 14 | 2500 | 34 | |
| Reporter Mic | 16 | 3300 | 40 | |
| Spiky Mic | 18 | 4100 | 46 | |
| Heart Mic | 20 | 5000 | 53 | |
| Hero Mic | 23 | 6600 | 63 | |
| Golden Mic | 26 | 8400 | 74 | |
| Dumbbell Mic | 29 | 10000 | 85 | |
| Ancient Mic | 32 | 12000 | 97 | |
| Golden Spiky Mic | 35 | 15000 | 109 | |
| Magma Mic | 38 | 17000 | 122 | |
| Angel Mic | 41 | 20000 | 135 | |
| Futuristic Mic | 45 | 24000 | 154 | |
| Legendary Mic | 50 | 30000 | 179 | |
Chef
| Name | Required level | Cost | Attack boost | Defense boost | Image  |
| --- | --- | --- | --- | --- | --- |
| Commis Frying Pan | 1 | 100 | 1 | 0 | |
| Nonstick Frying Pan | 2 | 140 | 3 | 1 | |
| Doughnut Frying Pan | 4 | 310 | 9 | 3 | |
| Wok | 6 | 570 | 14 | 4 | |
| Fortune Frying Pan | 8 | 920 | 20 | 6 | |
| Luxury Frying Pan | 10 | 1300 | 28 | 8 | |
| Full-Moon Frying Pan | 12 | 1900 | 34 | 10 | |
| Titanium Frying Pan | 14 | 2500 | 41 | 12 | |
| Star Frying Pan | 16 | 3300 | 48 | 14 | |
| Silver Frying Pan | 18 | 4100 | 55 | 17 | |
| Luminous Frying Pan | 20 | 5000 | 63 | 19 | |
| Hero Frying Pan | 23 | 6600 | 75 | 23 | |
| Solar Frying Pan | 26 | 8400 | 89 | 27 | |
| Sacred Frying Pan | 29 | 10000 | 102 | 31 | |
| Sci-Frying Pan | 32 | 12000 | 116 | 35 | |
| Magical Frying Pan | 35 | 15000 | 131 | 39 | |
| Evening Frying Pan | 38 | 17000 | 147 | 44 | |
| Blue Moon Frying Pan | 41 | 20000 | 162 | 49 | |
| Angel Frying Pan | 45 | 24000 | 185 | 56 | |
| Legendary Frying Pan | 50 | 30000 | 215 | 65 | |
Cat
| Name | Required level | Cost | Attack boost | Image  |
| --- | --- | --- | --- | --- |
| Kitten Claws | 1 | 100 | 1 | |
| Spotted Claws | 2 | 140 | 3 | |
| Cotton Gloves | 4 | 310 | 10 | |
| Oven Mitts | 6 | 570 | 16 | |
| Woolly Claws | 8 | 920 | 22 | |
| Heart Claws | 10 | 1300 | 30 | |
| Steel Claws | 12 | 1900 | 37 | |
| Boxing Gloves | 14 | 2500 | 45 | |
| Spiked Gloves | 16 | 3300 | 53 | |
| Golden Spiked Gloves | 18 | 4100 | 60 | |
| Alley Cat Claws | 20 | 5000 | 69 | |
| Hero Claws | 23 | 6600 | 83 | |
| Metal Gloves | 26 | 8400 | 97 | |
| Freezer Mitts | 29 | 10000 | 112 | |
| Blue Demonic Claws | 32 | 12000 | 128 | |
| Blue Heart Claws | 35 | 15000 | 143 | |
| Slashing Claws | 38 | 17000 | 161 | |
| Dragon Claws | 41 | 20000 | 178 | |
| Red Demonic Claws | 45 | 24000 | 203 | |
| Legendary Claws | 50 | 30000 | 236 | |
Imp
| Name | Required level | Cost | Attack boost | Magic boost | Image  |
| --- | --- | --- | --- | --- | --- |
| Training Spear | 1 | 100 | 1 | 2 | |
| Fork Spear | 2 | 140 | 2 | 4 | |
| Demonic Spear | 4 | 310 | 6 | 9 | |
| Ice Cream Spear | 6 | 570 | 10 | 14 | |
| Skull Spear | 8 | 920 | 14 | 19 | |
| Sweet Spear | 10 | 1300 | 18 | 25 | |
| Eye Spear | 12 | 1900 | 22 | 30 | |
| Heart Spear | 14 | 2500 | 27 | 37 | |
| Ancient Spear | 16 | 3300 | 32 | 42 | |
| Rune Spear | 18 | 4100 | 37 | 49 | |
| Destruction Spear | 20 | 5000 | 42 | 56 | |
| Hero Spear | 23 | 6600 | 50 | 67 | |
| Knight Spear | 26 | 8400 | 59 | 79 | |
| Squid Spear | 29 | 10000 | 68 | 91 | |
| Golden Spear | 32 | 12000 | 78 | 103 | |
| Water Drop Spear | 35 | 15000 | 87 | 117 | |
| Spell Spear | 38 | 17000 | 98 | 130 | |
| Crimson Rune Spear | 41 | 20000 | 108 | 145 | |
| Ruinous Spear | 45 | 24000 | 123 | 166 | |
| Legendary Spear | 50 | 30000 | 143 | 193 | |
Scientist
| Name | Required level | Cost | Attack boost | Magic boost | Image  |
| --- | --- | --- | --- | --- | --- |
| Student Flask | 1 | 100 | 1 | 2 | |
| Test Tube | 2 | 140 | 3 | 3 | |
| Ketchub Bottle | 4 | 310 | 8 | 8 | |
| Tube Flask | 6 | 570 | 12 | 12 | |
| Baby Bottle | 8 | 920 | 18 | 17 | |
| Poison Flask | 10 | 1300 | 24 | 21 | |
| Crystal Flask | 12 | 1900 | 29 | 26 | |
| Experiment Flask | 14 | 2500 | 35 | 32 | |
| Demonic Flask | 16 | 3300 | 41 | 36 | |
| Plasma Flask | 18 | 4100 | 48 | 42 | |
| Bio Flask | 20 | 5000 | 55 | 48 | |
| Hero Flask | 23 | 6600 | 65 | 57 | |
| Gourd | 26 | 8400 | 77 | 68 | |
| Deity Flask | 29 | 10000 | 88 | 78 | |
| Lightning Flask | 32 | 12000 | 100 | 89 | |
| Unidentifiable Flask | 35 | 15000 | 113 | 101 | |
| Potion Flask | 38 | 17000 | 127 | 111 | |
| Diabolical Flask | 41 | 20000 | 140 | 125 | |
| Oblivion Flask | 45 | 24000 | 159 | 143 | |
| Legendary Flask | 50 | 30000 | 186 | 165 | |
Princess
| Name | Required level | Cost | Attack boost | Magic boost | Image  |
| --- | --- | --- | --- | --- | --- |
| Debutante Fan | 1 | 100 | 1 | 1 | |
| Japanese Fan | 2 | 140 | 3 | 3 | |
| Lace Fan | 4 | 310 | 8 | 7 | |
| Protractor Fan | 6 | 570 | 13 | 12 | |
| Black Iron Fan | 8 | 920 | 18 | 16 | |
| Pizza Fan | 10 | 1300 | 24 | 20 | |
| Blade Fan | 12 | 1900 | 30 | 25 | |
| Money Fan | 14 | 2500 | 36 | 30 | |
| Peacock Pan | 16 | 3300 | 42 | 35 | |
| Fancy Fan | 18 | 4100 | 49 | 41 | |
| Love Fan | 20 | 5000 | 56 | 46 | |
| Hero Fan | 23 | 6600 | 67 | 55 | |
| Banana Leaf Fan | 26 | 8400 | 78 | 65 | |
| Iron Fan | 29 | 10000 | 90 | 75 | |
| Phoenix Fan | 32 | 12000 | 103 | 86 | |
| Chinese Fan | 35 | 15000 | 115 | 97 | |
| Fluffy Fan | 38 | 17000 | 130 | 107 | |
| Regal Fan | 41 | 20000 | 143 | 120 | |
| Bravery Fan | 45 | 24000 | 163 | 138 | |
| Legendary Fan | 50 | 30000 | 190 | 160 | |
Tank
| Name | Required level | Cost | Attack boost | Image  |
| --- | --- | --- | --- | --- |
| Training Shell | 1 | 100 | 1 | |
| Acorn Shell | 2 | 140 | 3 | |
| Copper Shell | 4 | 310 | 10 | |
| Teddy Shell | 6 | 570 | 16 | |
| Bomb Shell | 8 | 920 | 23 | |
| Billard Ball | 10 | 1300 | 31 | |
| Silver Shell | 12 | 1900 | 38 | |
| Octopus Shell | 14 | 2500 | 46 | |
| Tin Shell | 16 | 3300 | 54 | |
| Missile Shell | 18 | 4100 | 62 | |
| Rocket Shell | 20 | 5000 | 71 | |
| Hero Shell | 23 | 6600 | 85 | |
| Demonic Shell | 26 | 8400 | 100 | |
| Earth Shell | 29 | 10000 | 115 | |
| Azure Shell | 32 | 12000 | 131 | |
| Platinum Shell | 35 | 15000 | 147 | |
| Metal Bear Shell | 38 | 17000 | 166 | |
| Blue Octopus Shell | 41 | 20000 | 183 | |
| Diabolical Shell | 45 | 24000 | 208 | |
| Legendary Shell | 50 | 30000 | 243 | |
Flower
| Name | Required level | Cost | Attack boost | Magic boost | Image  |
| --- | --- | --- | --- | --- | --- |
| Simple Leaf | 1 | 100 | 1 | 1 | |
| Dry Leaf | 2 | 140 | 2 | 2 | |
| Maple Leaf | 4 | 310 | 7 | 4 | |
| Stained-Glass Leaf | 6 | 570 | 11 | 7 | |
| Dandelion | 8 | 920 | 16 | 9 | |
| Emerald Leaf | 10 | 1300 | 22 | 12 | |
| Horsetail Shoot | 12 | 1900 | 27 | 14 | |
| Wedding Bouquet | 14 | 2500 | 33 | 18 | |
| Star Leaf | 16 | 3300 | 39 | 20 | |
| Holly Leaf | 18 | 4100 | 44 | 24 | |
| Four-Leaf Clover | 20 | 5000 | 51 | 27 | |
| Hero Leaf | 23 | 6600 | 61 | 32 | |
| Amethyst Leaf | 26 | 8400 | 71 | 38 | |
| Silver Leaf | 29 | 10000 | 82 | 44 | |
| Yoshino Cherry Branch | 32 | 12000 | 93 | 50 | |
| Red Star Leaf | 35 | 15000 | 105 | 57 | |
| Blue Leaf | 38 | 17000 | 118 | 63 | |
| Sapphire Bouquet | 41 | 20000 | 130 | 71 | |
| Strange Cherry Branch | 45 | 24000 | 148 | 81 | |
| Legendary Leaf | 50 | 30000 | 173 | 94 | |
Vampire
| Name | Required level | Cost | Attack boost | Magic boost | Image  |
| --- | --- | --- | --- | --- | --- |
| Thrall Bat | 1 | 100 | 1 | 2 | |
| Red Bat | 2 | 140 | 3 | 4 | |
| Woolly Bat | 4 | 310 | 9 | 9 | |
| Demon Bat | 6 | 570 | 14 | 14 | |
| Butterfly | 8 | 920 | 20 | 20 | |
| Blade Bat | 10 | 1300 | 27 | 25 | |
| Tiger Bat | 12 | 1900 | 33 | 31 | |
| Mecha Bat | 14 | 2500 | 40 | 38 | |
| Dragon | 16 | 3300 | 47 | 43 | |
| Flying Fish | 18 | 4100 | 54 | 50 | |
| Devil Bat | 20 | 5000 | 62 | 58 | |
| Hero Bat | 23 | 6600 | 74 | 68 | |
| Shining Bat | 26 | 8400 | 87 | 81 | |
| Mask Bat | 29 | 10000 | 100 | 94 | |
| Blue Bat | 32 | 12000 | 114 | 106 | |
| Red Dragon Bat | 35 | 15000 | 128 | 121 | |
| Mecha Bat II | 38 | 17000 | 144 | 133 | |
| Diabolical Bat | 41 | 20000 | 159 | 149 | |
| Sacred Bat | 45 | 24000 | 181 | 171 | |
| Legendary Bat | 50 | 30000 | 211 | 198 | |
Elf
| Name | Required level | Cost | Attack boost | Magic boost | Image  |
| --- | --- | --- | --- | --- | --- |
| Sprite Bow | 1 | 100 | 1 | 1 | |
| Kyudo Bow | 2 | 140 | 3 | 2 | |
| Prawn Bow | 4 | 310 | 9 | 5 | |
| Hunter Bow | 6 | 570 | 15 | 7 | |
| Clockwork Bow | 8 | 920 | 21 | 10 | |
| Silver Bow | 10 | 1300 | 28 | 13 | |
| Crescent Moon Bow | 12 | 1900 | 35 | 15 | |
| Fish Bone Bow | 14 | 2500 | 42 | 19 | |
| Neon Bow | 16 | 3300 | 49 | 22 | |
| Ribbon Bow | 18 | 4100 | 57 | 25 | |
| Fairy King Bow | 20 | 5000 | 65 | 29 | |
| Hero Bow | 23 | 6600 | 78 | 34 | |
| Angel Bow | 26 | 8400 | 91 | 41 | |
| Wicked Bow | 29 | 10000 | 105 | 47 | |
| Guardian Bow | 32 | 12000 | 120 | 53 | |
| Searing Bow | 35 | 15000 | 134 | 60 | |
| Miracle Bow | 38 | 17000 | 151 | 67 | |
| Demonic Bow | 41 | 20000 | 167 | 75 | |
| King Bow | 45 | 24000 | 190 | 86 | |
| Legendary Bow | 50 | 30000 | 222 | 99 | |