Pop Star
From MiiWiki
Jump to navigation
Jump to search
| | | | |
| --- | --- | --- | --- |
| " | Inspires the party with boundless energy and the magic of song! | " | — Miitopia job description |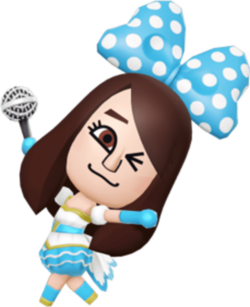 The Pop Star is a support-based job in Miitopia. It is one of the 6 starting jobs. Its basic attack is all-target. It has two variations that have different clothing available.
Stats
Job stats in Miitopia  
Stat
Minimum
Maximum
HP
15
318
MP
6
104
Attack*
6
57
Defense*
4
73
Magic
4
103
Speed
6
60
All stats can be increased by 99 using Grub.
*can be increased with equipment
Skills
Job skills in Miitopia  
Skill name
Level learned
MP cost
In-game description
Effect
Image
Encore
2
2
Makes another party member act.
Earworm
3
4
Tries to distract all enemies
Out of Tune
5
5
Hits all characters in battle, including allies. Doesn't raise resentment
Love & Peace
6
12
Ends resentment. Cannot affect the user.
Love Song
8
4
Raises the user's relationship with all members to the highest relationship level in the party.
Cheer On
11
4
Restores MP to the whole party except the user.
Smooth Moves
16
1
Heals the user. If an ally uses Lend a Hand on it, then that ally heals as well.
Way Out of Tune
21
15
A stronger Out of Tune.
Angelic Voice
27
15
Has a low chance to revive each KOed Mii.
Gallery